Side events at the 42nd session of the UN's Human Rights Council reflect tragic consequences of enforced disappearance and state secrecy in Saudi Arabia
By Drewery Dyke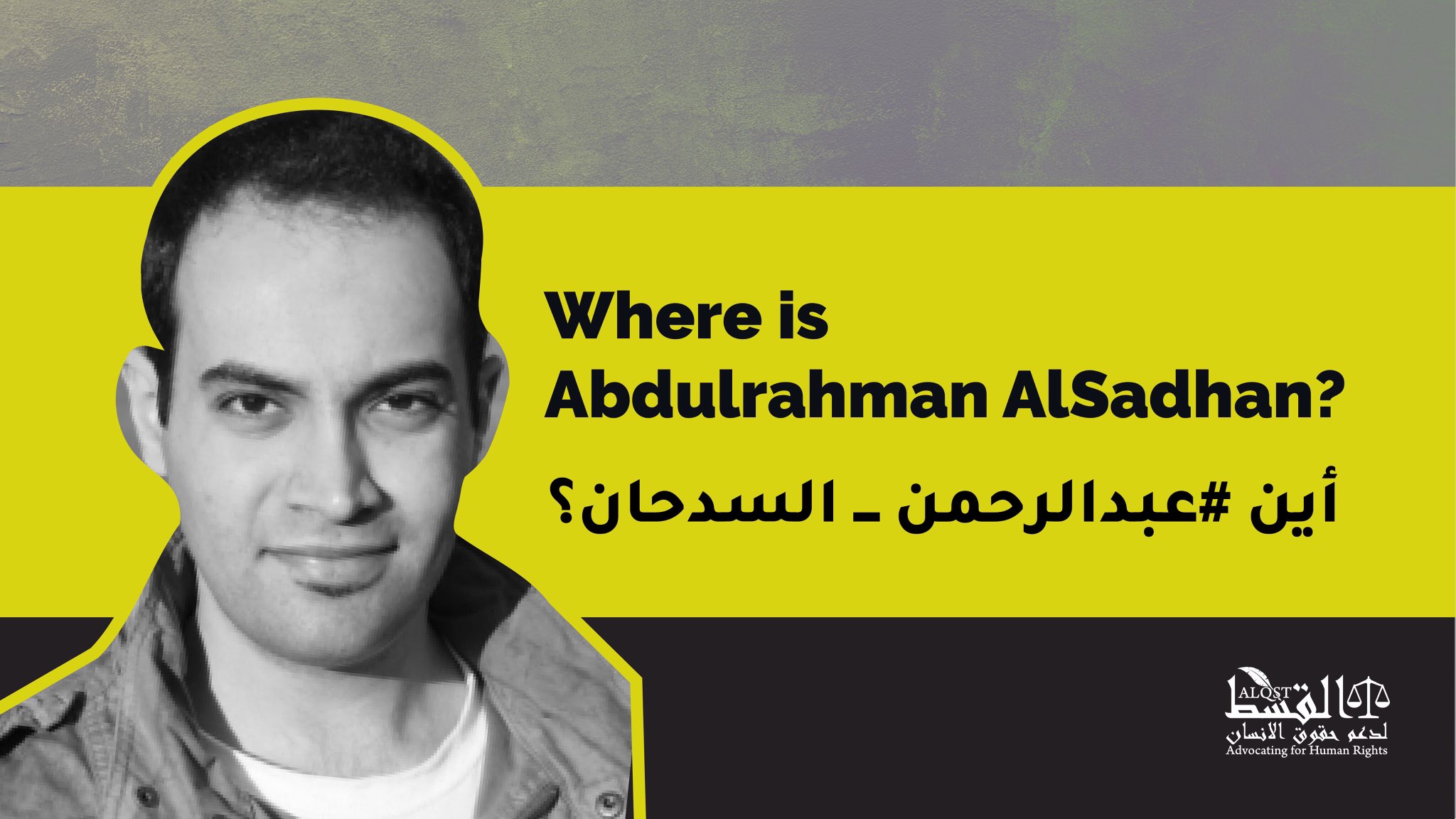 As news spreads about the 23 September, Australia-led, 24-country, joint appeal at the United Nations' Human Rights Council (HRC), calling for demonstrable improvements in Saudi Arabia's adherence to international human rights standards, side events held at the HRC before publication of the appeal explored issues found in the joint appeal.

"What are they trying to hide?" Areej AlSadhan, the sister of Saudi Arabian humanitarian worker Abdulrahman AlSadhan asked, at a side event on 19 September co-sponsored by ALQST (see 22:50 from the video of the event, at: https://www.pscp.tv/w/1lPKqePNwjeKb ), questioning, "[is it] signs of torture abuse or is it something worse?"

She told those gathered how plain clothed officials took Abdulrahman away, and how her family has vigorously sought information from state bodies regarding where he is held and how they have asked to meet with him. No member of her family has seen her brother and the only information about him that they had was a report he had been seen at Dhahban Prison in October 2018, seven months after his arrest. State authorities have rejected requests to visit him and the family do not even know why he was detained or if he has been charged.

She added that "the amount of pain and struggle that we have been going through as his family has been unbearable. It's been a year and a half of constant mental and psychological torture. US officials have contacted their Saudi Arabian counterparts on several occasions and still there is no response."

She had earlier observed that the last words Abdulrahman AlSadhan spoke to his family were, "I love you, mum".

"Zainab does not know whether her brother is alive or dead" remarked UK barrister Juliet Wells on 12 September, in Geneva, at another side event convened by the Death Penalty Project. The Saudi Arabian authorities convicted her brother, Hussain Abo-Alkhair, a Jordanian national, in connection with possession pills containing illicit drugs. On page 41 of a report written by UK barrister, Baroness Helena Kennedy, it states that:

"following his arrest in May 2014, he was repeatedly subjected to "all kinds of torture" for a period of 12 days,to force him to confess. Although he complained to the judge presiding over his case that he had been tortured, no investigation was ordered or other action taken by the judge. Indeed, the evidence relied on by the trial court in convicting Mr Abo-Alkhair consisted solely of the forced confession, since the prosecutor did not offer any other evidence to substantiate his guilt."

The report adds that Zainab observed that the effect of the Saudi Arabian administration of justice on both Mr Abo-Alkhair and his family had been immense – they have suffered, and are still suffering "all kinds of emotional and psychological pain due to the excessive stress and worry".

In a legal opinion set out in a January 2018 report, UK barristers, Lord Ken Macdonald and Rodney Dixon comment on the September 2017 arrests of Ali al-Aomri, Salman al-Awda, Sami al-Majed and others. They, too, note (paragraph 73) that the "lack of substantial contact with family members and the unknown location of many of those detained [in September 2017] is a source of serious concern." They add that it:

"suggests violation of the prohibition against prolonged incommunicado, arbitrary detention and the right of family members to know the truth [and it] leaves those individuals vulnerable to further mistratement, including torture and cruel, inhuman and degrading treatment"

Secrecy beyond the executioner

Saudi Arabian government secrecy applies likewise to those killed or executed.

Notoriously, the authorities have pointedly refused to return any remains of Jamal Khashoggi to his fiancee, Hatice Cengiz, or his children, against international convention, religious practice and basic human dignity. In June 2019, the UN Special Rapporteur on extrajudicial, summary or arbitrary killings, Ms. Agnes Callamard, concluded that on 2 October 2018, the Saudi Arabian government subjected Jamal Khashoggi to premeditated extrajudicial execution. But his body remains "unaccounted for."

Following the April 2019, near-unprecedented mass execution of 37 individuals – including of child offenders, following grossly unfair trials – the government refused to return tens of bodies to their own families. They were, overwhelmingly, from Saudi Arabia's Shi'a minority. Citing information sourced by the European Saudi Organization for Human Rights (ESOHR) UK barrister, Baroness Helena Kennedy, reports (paragraph 59, page 34) that:

"it appears that in a large number of cases, the Saudi authorities have failed or refused to release the bodies of victims of executions to their families. Instead, in such cases, the deceased were buried without ceremony in the absence of their families, in unmarked and undisclosed locations."

The ESOHR identified at least 74 occasions where the authorities have refused to return to the families the bodies of those executed. Echoing the anguish expressed by Areej AlSadhan, Kennedy states, in respect to those executed in April 2019, that;

"denial of access to the remains and even resting places of their loved ones has reportedly caused families particularly acute suffering, since the Shia faith requires the bodies of the deceased to be solemnly cared for, with great importance being attached to burial rites and post-burial ceremony."

UK barrister, Juliet Wells, speaking at a Human Rights Council side event on 12 September stated that denial of access to a detainee and refusing to hand over the remains to the rightful families is an "extraordinary practice". She said that socially and legally, "they are and remain disappeared." She observed that the practice violated Article 3 of the Universal Declaration on Human Rights, namely that "Everyone has the right to life, liberty and security of person" and she drew a parallel between Saudi Arabia's practice and that of Argentina in the 1970s but as well as those who vanished and were killed by Nazis in the Holocaust, noting that it was a "disappearence of their rights – and rites."
What can be done?

No one can speak out about it. As highlighted by activist Omaima al-Najjar, Under the terms of the 2009 Anti-Cyber Crime Law, people must – in effect – remain silent or risk imprisonment.

Speaking alongside Areej AlSadhan on 19 September, the Director of ALQST, Yahya Assiri observed:

"Torture right now is worse than ever. Yes we've always had torture in Saudi Arabia but this is now a worse situation. They used to try to silence people. And they would silence you […] but now they not only try to silence people but they are taking revenge on anyone who criticizes them [the government] either now or in the past […]"

He noted that there are currently pro-government users of social media who are in prison due to tweets posted during the 2011 "Arab Spring". Some have only recently been convicted.

On the second anniversary of those detained in September 2017, and while Saudi Arabia remains a member of the Human Rights Council, consider the extraordinary cruelty that is denial of access to a detained family member or any information about their case. A source of profound and unanswerable anguish while the detainees await court or are held in unknown conditions, it is a raw expression of hatred. Just what is Saudi Arabia trying to hide? And why?

Areej AlSadhan ended her intervention, agonising: 

"By exercising forced disappearance and many other human rights violations in Saudi Arabia they violate not only international human rights law but also their own domestic law. This makes me wonder how come Saudi Arabia is still a member of the Human Rights Council, while it is not a true advocate for human rights"

Yahya Assiri ended his intervention by voicing a concern being heard more and more often, not least in advance of the G20 summit scheduled to take place in Saudi Arabia in 2020, linking the government's secrecy to good governance. He noted that:

" […] After the murder of Jamal Khashoggi everyone recognises that the regime will not bring stability that they were looking for; [that the] Saudi machine impacts not only on people in Saudi Arabia but the region and the whole world. The [human rights] crisis [is such] that stability is not available: violations are increasing inside the country and […] in Yemen. It gets worse worse and worse everyday."

He called on:"[P]eople in Europe [to] do more, but not for us – we're not asking you to help us – but for themselves. Stop governments from protecting the Saudi regime".

In the end, alongside the suffering and agony, it appears that Saudi Arabia's addiction to secrecy has effects that have an even farther reaching effect than the suffering caused.
About author
Drewery Dyke is a research fellow at the UK's Foreign Policy Centre and is Chairperson of the UK registered charity, Rights Realisation Centre. He tweets @drewerydyke .