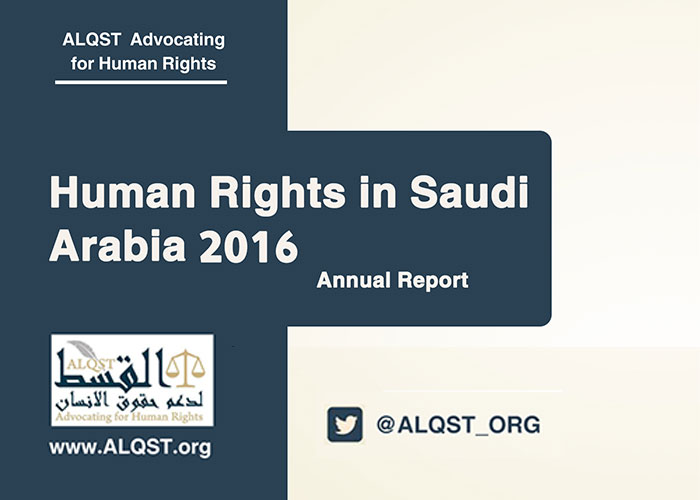 Human Rights Situation in Saudi Arabia 2016
Annual review 2016
[button href="https://alqst.org/wp-content/uploads/2017/01/Human-Rights-in-Saudi-Arabia-2016-En.pdf" size="medium" color="#932f20″ textcolor="#ffffff"]Download PDF[/button]
[button href="https://alqst.org/hr2016/" size="small" color="#962821″ textcolor="#ffffff"]حمل بالعربي[/button]
MESSAGES FROM ALQST
To the people of Saudi Arabia we say:
Human rights violations and the suppression of Freedom of Speech puts more reformers' and activists' lives at risk. It destroys society by concealing the truth, and allows for a dictatorship. Saudi society has an absolute duty to expose and challenge such abuses by all legitimate means. To human rights organisations, activists and supporters of freedom we say: People inside Saudi Arabia feel heavily constrained, and they value your efforts and support. The fact that the people of Saudi Arabia do not interact with you directly does not mean they have not noticed, but that they are afraid the Authorities will pounce on them.
To the Saudi Authorities we say:
These human rights violations and abuses must stop completely. Attempting to exert a dictatorship by means of executions, torture, lengthy prison sentences, suppressing freedom of speech and the oppression of all other freedoms in Saudi society will continue to ruin the Kingdom and hold back its progress. It increases the risk of the country turning to violence or stagnating through corruption. What is happening now in Saudi Arabia is a War on Freedom, the destruction of society and the obliteration of history, jeopardising the Kingdom's future, and it has to stop at once. Freedom, justice and equality must be permitted to take their course, and the Saudi people must be allowed to participate in the running of their own country. The Saudi people are entitled to a life of dignity as befits their noble heritage, and to have their history and culture respected. It is their right that 2017 should not be a year of misery and oppression like 2016 and previous years.
To Nations allied with the Saudi regime, and the rest of the international community, we say:
Do not believe the claims from the Saudi regime and its agents that its people are content with what is going on inside the Kingdom. Remember that the people of this country are entitled to a life of dignity just like the rest of the world. The Saudi Authorities' systematic attempts to pervert the image of Saudi society should not be accepted on your part, or promoted by your media and circles of influence. Saudi society should not be labelled as extremist, terrorist, backward or uninterested in reform simply because the Saudi Authorities dismiss it as such, when in fact the people of Saudi Arabia are constrained, threatened and unable to express their opinions freely. Remember that human rights apply to all human beings irrespective of religion, race or colour. Oil, arms deals and financial lobbying should not blind you or prevent you from taking a serious moral position in support of human rights and freedom.
To groups practising violence, and their supporters, we say:
What you are doing plays into the strategy of the Saudi Authorities, which is all about creating change by force and rules out all calls for change by peaceful means. Violence is the Saudi Authorities' prime justification for carrying on with their abuses and their continued suppression of human rights. They use the wrongdoings of violent groups to justify their oppression and promote themselves abroad as standing up to violence, while portraying Saudi society as extremist and backward. They exploit the killings of innocent victims, worthy Saudi civilians and security officers. The whole nation suffers as a result of the violence, and the only ones to benefit are the Authorities. Everyone involved in violence, either actively or by their support for it, please take a step back now and give it up. Instead work to resist violence and dictatorship together by all peaceful and legitimate means.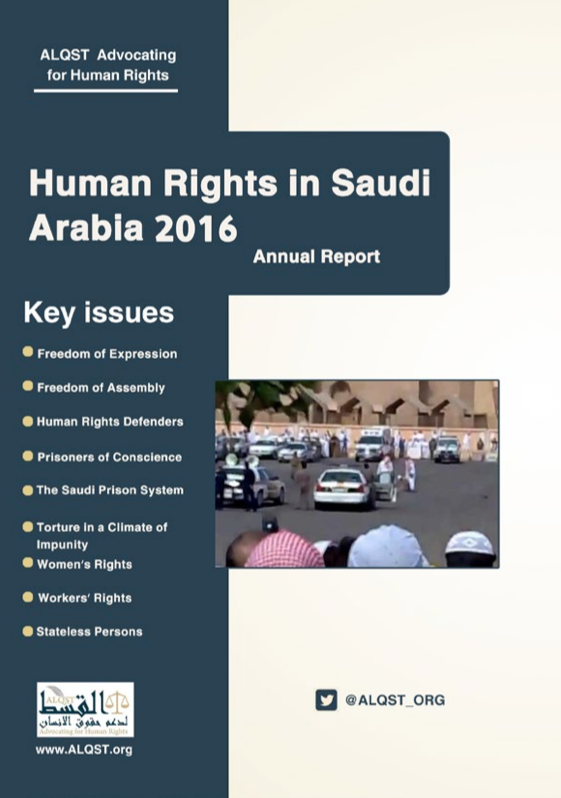 Human Rights in Saudi Arabia 2016 En
INTRODUCTION
In 2016, the Kingdom of Saudi Arabia saw a further ramping up of repression that has gone on ever since King Salman came to power in January 2015. When King Salman took the throne, he made lavish promises that quickly proved empty and did nothing to improve conditions in Saudi Arabia. From a human rights perspective the situation has continued to deteriorate. 2016 represented another year in the era ushered in by King Salman when he appointed as Crown Prince the Minister of Interior, Mohamed bin Nayef – the man responsible for the suppression of liberties, the persecution of activists and other human rights abuses. In addition, the King appointed his own son, Mohamed bin Salman, as Deputy Crown Prince, Defence Minister and Chair of the Council for Economic Affairs – the person responsible for the War Crimes committed in Yemen and the economic crisis back home in Saudi Arabia, where poverty and unemployment have risen alarmingly.
Throughout 2016, activists continued to be put on trial in the Specialised Criminal Court, a court set up by illegal means to deal with terrorism cases. Lengthy prison sentences continued to be handed down to human rights activists, advocates of reform, and civil society activists. Harsh sentences were also handed down to a number of writers, journalists and others.
The Saudi war on Yemen continued, with the documented use of internationally banned weapons. The Saudi Authorities acknowledged the use of cluster bombs in Yemen, after a long period of denial on their part and on that of their allies and arms suppliers. They also admitted responsibility for the dual airstrike on a funeral in the Great Hall in Sana'a on October 8, 2016, which killed over 100 people and injured 500.
Approximately 154 executions were carried out in 2016, almost as many as in 2015, which reached a 20-year high of approximately 158 executions. The Saudi Authorities kicked off 2016 with a mass execution of 47 individuals across several different cities in the Kingdom.
In October 2016, Saudi Arabia's membership of the UN Human Rights Council was renewed. This was in spite of continued autocratic rule in the Kingdom which included attacks on free speech and peaceful calls for reform, the denial of the basic rights for women, minorities and migrant workers, mass arrests as well as the continued 'discretionary' use of the death penalty for non-violent crimes.
[button href="https://alqst.org/wp-content/uploads/2017/01/Human-Rights-in-Saudi-Arabia-2016-En.pdf" size="medium" color="#932f20″ textcolor="#ffffff"]Download PDF[/button]
[button href="https://alqst.org/hr2016/" size="small" color="#962821″ textcolor="#ffffff"]حمل بالعربي[/button]
Related Post: