Instead of acknowledging the human dignity of this awful case, the Saudi authorities have offered contradictory accounts as to the fate of Jamal Khashoggi
By Drewery Dyke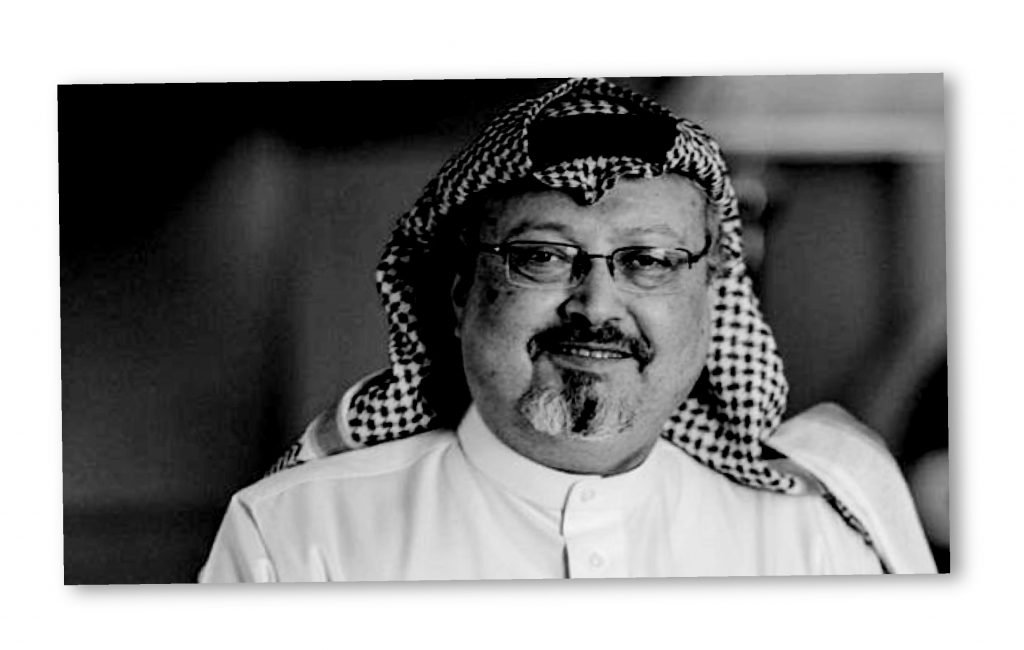 Today, on Wednesday 2 October, between 6-7pm (GMT), ALQST, English PEN, Reporters Without Borders and others dismayed by the premeditated execution of the Saudi journalist Jamal Khashoggi will hold a candlelit vigil at the Embassy of Saudi Arabia in London. It will mark one year since Saudi officials murdered the journalist at the country's consulate in Istanbul.

They will be reiterating calls for justice for Jamal Khashoggi, which has been so far been left wanting. This lack of justice also reflects a lack of humanity by the Saudi authorities.

Contradicting narratives

In an interview with the news programme, 60 Minutes, broadcast on 29 September 2019, Saudi Arabia's Crown Prince Mohammed bin Salman accepted general responsibility for the murder – "as a leader in Saudi Arabia" and since "it was committed by individuals working for the Saudi government". On 25 September, he gave a similar response to PBS. 

He did not address the question regarding how those close to him were alleged to have been behind the killing, but said that "you cannot imagine the pain we have suffered, as the Saudi government" and later that "this is a heinous incident and painful to all of us…"

Asked how he could hot know about the actions of such officials, he scoffed, saying that it is impossible for him to know what three million civil servants do on a daily basis. And yet, just a year ago, on 5 October 2018, in response to a Bloomberg journalist's question regarding Jamal Khashoggi's whereabouts, he said that "if he's in Saudi Arabia I would know that."

His comments contrast unfavorably with the clear explanation and analysis provided in the report by the United Nations Special Rapporteur on extrajudicial, summary or arbitrary executions, Dr. Agnes Callamard.

Astonishingly, Crown Prince Mohammed bin Salman told 60 Minutes that investigations into the killing were ongoing when, in fact, as CNN and the United Nations investigator, Agnes Callamard discussed today (see exchange at 5:17 onward) investigations have stopped and 11 people are now said to be on trial for the murder, though not some of those whose roles are set out in the UN investigator's report.

Why would the Crown Prince refer to investigations when none are known to be underway; when no questions into the chain of command were apparently explored? In short, the trial is shrouded in secrecy and the comments made to 60 Minutes and others appear to be attempts to buy more time, in the hope that calls for justice subside.

The forgotten humanity of Jamal Khashoggi

Dr. Callamard's report discussed Jamal Khashoggi and his journey as a journalist and discussed the "personal man", "professional man" and the "man of conscience more than of politics". 

Therein lies the difference: humanity.

Crown Prince Mohammed Bin Salman spoke of the pain he has suffered. As far as we are aware, neither he nor any other Saudi official has spoken with compassion or humanity about what the UN Special Rapporteur has concluded was a premeditated execution. Instead, it is a UN official who has taken to time to consider who Jamal Khashoggi was, such as "a man of conscience."

Remember that this is a man about whom a Saudi official at the consulate in Istanbul said, addressing the dismemberment of Jamal Khashoggi's body: "Joint[s] will be separated it's not a problem […] First time I cut on the ground. If we take plastic bags and cut it into pieces it will be finished." 

Instead of acknowledging the human suffering of Khashoggi's family or his fiancee – the human dignity of this awful case – the Crown Prince has offered contradictory accounts as to what he would – or does – know about the fate of Jamal Khashoggi. It lends credence to the UN Special Rapporteur's observation that "there is credible evidence warranting further investigation of high-level Saudi officials individual liability including the Crown Prince's."

This is the point of the vigil tonight: that Jamal Khashoggi's murder should not have been in vain. In the forgotten humanity of Jamal Khashoggi, we strive for justice to be attained.

Today, on Wednesday 2 October, between 6-7pm (GMT) , ALQST, English PEN, Reporters Without Borders and others will hold a candlelit vigil at the Embassy of Saudi Arabia in London to mark one year since the murder.
For details of the event, see: https://www.facebook.com/events/740780086389809/ 
On Tuesday 1 October, 21 NGOs including ALQST released a joint statement renewing their calls for accountability for the murder of Jamal Khashoggi, setting out six calls to both the Saudi authorities and the international community. 

About author
Drewery Dyke is a research fellow at the UK's Foreign Policy Centre and is Chairperson of the UK registered charity, Rights Realisation Centre. He tweets @drewerydyke .